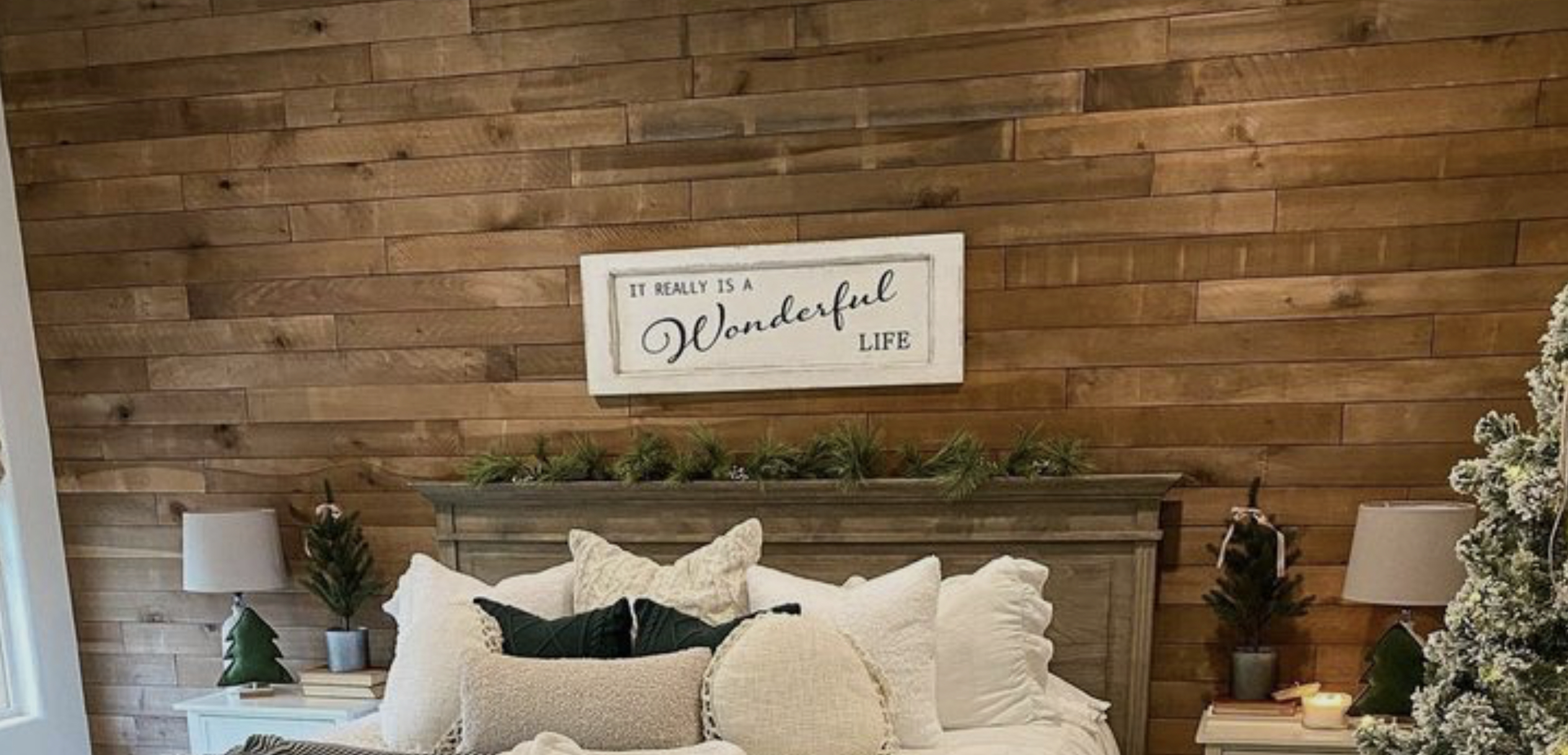 Do you want to add a touch of country home decorating to your home without breaking the bank? Look no further! Rustic design ideas are a great way to give your home a charming, cozy atmosphere at a fraction of the cost. We'll be providing you with 10 affordable rustic design ideas that will help you create a beautiful country home without having to spend a fortune. Keep reading to learn more about our budget-friendly country home decorating tips!
1) Repurpose Old Items for New Decor
If you're looking for affordable ways to add country charm to your home, consider repurposing old items for new decor. With a little creativity, you can give old pieces a new lease on life and create a rustic, farmhouse feel in your home.
One great way to add a farmhouse, rustic theme to your home is through wall signs. You can make your own with reclaimed wood or find affordable options at a home goods store. A vintage-looking sign with a quote or phrase can add a charming touch to any room in your house.
Another great repurposing idea is to take an old cutting board and give it a shabby chic look. By simply sanding and repainting the board, you can create a unique piece of decor that is both practical and stylish. Hang it in your kitchen or use it as a tray for displaying candles or other decorative items.
A Rustic Wood Basket is a versatile piece of decor that can be used in a variety of ways. Use it to store firewood on your porch or to hold towels in your bathroom. This basket is inspired by rustic measuring baskets from a bygone era and can add a touch of history and charm to your home.
When it comes to farmhouse decorating, repurposing old items is a great way to save money while adding character and personality to your home. So get creative and start exploring new ways to give your old items a new purpose in your home.
2) Incorporate Natural Elements
Incorporating natural elements into your home decor is a great way to bring some rustic design flair without breaking the bank. There are plenty of affordable and sustainable options that can easily elevate the look and feel of your space.
Start by incorporating some greenery into your home. Not only does it add a pop of color, but plants also help purify the air and provide a sense of relaxation. Look for low-maintenance plants like succulents or herbs, which can be grown indoors with minimal upkeep.
You can also add natural wood elements to your decor. Whether it's a DIY project like a reclaimed wood shelf or a simple driftwood vase, wooden accents can bring a touch of warmth and texture to your space.
In addition to wood, incorporating stone or ceramic pieces can also add to your rustic design aesthetic. Look for handcrafted pottery or natural stone coasters to display on your coffee table or shelves.
Another way to bring the outdoors inside is by incorporating natural textiles. Consider using a jute rug or woven basket to bring texture to your floors or storage spaces. Natural fabrics like linen and cotton can also be used for pillows, curtains, and tablecloths to add some cozy and rustic vibes.
Overall, incorporating natural elements into your home decor can add a rustic design charm without costing you a fortune. Try some of these affordable ideas to bring a little bit of nature into your space and elevate your home decor.
3) Use Vintage or Antique Finds
Another way to add country charm to your home without spending a fortune is by incorporating vintage or antique finds into your decor. Not only do these items add character and history to your space, but they can also serve as unique conversation starters for your guests.
When it comes to farmhouse decorating, vintage pieces are key. Look for old milk cans, crocks, or metal signs to display on a shelf or mantel. Vintage frames can also be repurposed as wall art by adding a printed or handwritten quote or saying.
Antique furniture pieces can also add a touch of charm to your space. Look for a rustic wooden chair or a distressed dresser that you can repurpose as a bathroom vanity. Vintage suitcases can also be stacked to create a unique side table or nightstand.
Thrift stores, flea markets, and antique shops are great places to search for these one-of-a-kind finds. Don't be afraid to haggle with the seller or look for items that need a little TLC, as these can often be purchased at a lower price point.
When incorporating vintage or antique finds into your decor, be sure to mix and match with other styles and textures for a balanced and eclectic look. Remember, the goal is to create a cozy and inviting space that reflects your personal style and love for farmhouse decorating.
4) Create DIY Wall Art
Wall art can be a great way to add some character and charm to your country home. And the best part? You can easily create it yourself! DIY wall art can be a fun and inexpensive way to personalize your rustic decor and make it unique to your style.
There are many options for DIY wall art when it comes to rustic decor. You could make your own wooden signs by painting on quotes or phrases that inspire you. You could also create your own collage of vintage postcards or pictures. These could be photos of your family, your pets, or even nature shots that remind you of your country home.
Another option is to use natural elements like twigs, branches, or stones to create your own art pieces. You could arrange them in a unique pattern or shape on a canvas or frame. You could even add some paint or other decorative elements to make them stand out even more.
The key to creating DIY wall art for rustic decor is to keep it simple and natural. Don't be afraid to let imperfections show through, as this will only add to the rustic charm. And remember, you don't have to spend a lot of money on fancy supplies to create something beautiful. Sometimes the best materials can be found right in your own backyard!
5) Mix and Match Patterns and Textures
One of the easiest and most effective ways to add a cozy and welcoming vibe to your country home decor is to mix and match different patterns and textures. The key to achieving this style is to find patterns and textures that complement each other, without overwhelming the space.
Start by choosing a color palette that works well with your existing decor. Then, mix in patterns such as plaids, florals, stripes, and gingham in small doses throughout your space. Don't be afraid to layer different textures, such as burlap, wool, and cotton, for added interest and depth.
One tip to keep in mind when mixing and matching patterns and textures is to vary the scale. Pairing a small floral pattern with a large plaid or stripe can create a dynamic and interesting look. Additionally, consider incorporating natural materials like wood and stone to balance out the patterns and add a rustic touch.
Overall, mixing and matching patterns and textures is an affordable way to update your country home decor while creating a cozy and inviting atmosphere. So, don't be afraid to get creative and experiment with different combinations until you find the perfect balance for your space.
6) Add Cozy Textiles
Nothing says cozy country home decor like adding soft, plush textiles. One of the easiest and most affordable ways to achieve a warm and inviting atmosphere is to layer your space with blankets, throws, and pillows in various textures and patterns.
A simple cotton throw draped over a couch or chair can instantly add a touch of coziness. Try incorporating chunky knit or faux fur pillows for an extra snuggly feel. If you have old wool blankets or vintage quilts lying around, don't hesitate to incorporate them into your design. You can drape them over the back of a sofa or use them as a statement piece on your bed.
For the ultimate rustic feel, consider adding a cowhide rug or a woven jute rug to your living space. These natural materials are durable and can withstand heavy foot traffic. Plus, they add a warm and organic feel to any room.
When it comes to window treatments, consider using linen or burlap curtains for a rustic and charming look. These fabrics have a timeless quality and add an earthy feel to any space.
By incorporating cozy textiles into your country home decor, you can create a warm and inviting space that is perfect for snuggling up with a good book or entertaining guests. And the best part is, it doesn't have to break the bank!
7) Hang Curtains for a Cozy Look
Curtains are an easy and affordable way to add a touch of warmth and comfort to any room. And when it comes to country style decor, plaid curtains are a perfect fit. Plaid curtains add a rustic and traditional look that fits perfectly with the farmhouse vibe.
Choose curtains in classic red or green plaid for a cozy winter feel or choose a muted plaid in beige or gray for a more neutral look that can work all year round. To enhance the country feel, opt for curtains with a ruffle or fringe trim.
For a layered look, add sheer white or cream curtains behind your plaid curtains. The sheer curtains will add depth to the room while still allowing light to filter through. Don't be afraid to mix patterns and textures – plaid curtains look great paired with floral prints or gingham patterns.
To really make your plaid curtains stand out, hang them from a wooden or wrought iron curtain rod. Add some rustic metal or wooden tiebacks to complete the look. With just a few simple touches, your country home will be warm, cozy, and inviting.
8) Display Mason Jars and Candles
Another way to add a touch of rustic charm to your county home is by incorporating mason jars and candles. Mason jars can be used as vases for fresh or dried flowers, as well as for holding tea lights or pillar candles. Candle holders can be made out of old wooden blocks or scrap metal for a more unique and personalized touch.
Not only do candles provide a warm and cozy ambiance, but they also make for a budget-friendly decorative element. You can find affordable candles at your local dollar store or even make your own with beeswax or soy wax. The scents of the candles can also add to the rustic feel, with popular options being vanilla, cinnamon, and apple pie.
For a more elevated look, try grouping several mason jars together on a wooden tray or shelf, along with some sprigs of greenery or pinecones. You can also wrap twine or burlap around the jars to add an extra touch of texture and charm. With a little creativity and some simple materials, you can easily create a cozy and inviting atmosphere in your country home with mason jars and candles.
9) Incorporate Farmhouse Style Accessories
When it comes to creating a cozy country bedroom, adding the right accessories can make all the difference. To achieve a farmhouse style, essential layers for your bed should include sheets, duvet, duvet cover, bed skirts, and quilt or blanket. When selecting these items, opt for natural textiles and play with different textures to create a seamless contrast.
For a cohesive look, choose colors that match the overall theme of the bedroom. For example, white cotton sheets would be a great choice for brown wooden or bricked walls. The color palette for a rustic look should feature neutral tones, earthy brown, beige, or a subtle touch of red with black.
Quilts offer a country feel and should be a color that contrasts with the sheets. Duvets, on the other hand, should be light colors such as grays, tans, whites, and creams. Farmhouse bedding sets come in various patterns such as light, printed, floral, plaids, and stripes. You can pair patterns such as stripe and floral options, or keep it simple with white pillows, white comforter, and white sheets.
When it comes to throw pillows, select stripes, lace, and solid options of neutral hues. Make sure to pair them with the rest of the bedding for a cohesive look. By incorporating these farmhouse style accessories, you can create a cozy, rustic vibe in your bedroom without breaking the bank.
10) Rearrange Furniture for a Fresh Look
One of the easiest and most affordable ways to refresh your country home decor is to simply rearrange your furniture. This can create a whole new vibe and atmosphere in your space without having to spend any money. Consider moving your couch to a new wall, or swapping out chairs from one room to another. Play around with different configurations until you find one that feels just right for your space.
When rearranging your furniture, keep in mind the principles of rustic decor. You want to create a cozy and inviting atmosphere that incorporates natural elements and rustic touches. Try placing your sofa facing a fireplace or large window to highlight these elements. Or, consider grouping together furniture pieces to create a more intimate and cozy seating area.
Remember, don't be afraid to experiment and try something new. Rustic decor is all about embracing imperfections and creating a comfortable and welcoming environment. By rearranging your furniture, you can transform your space into a fresh new look that reflects your unique personality and style. So get creative, and have fun with it!