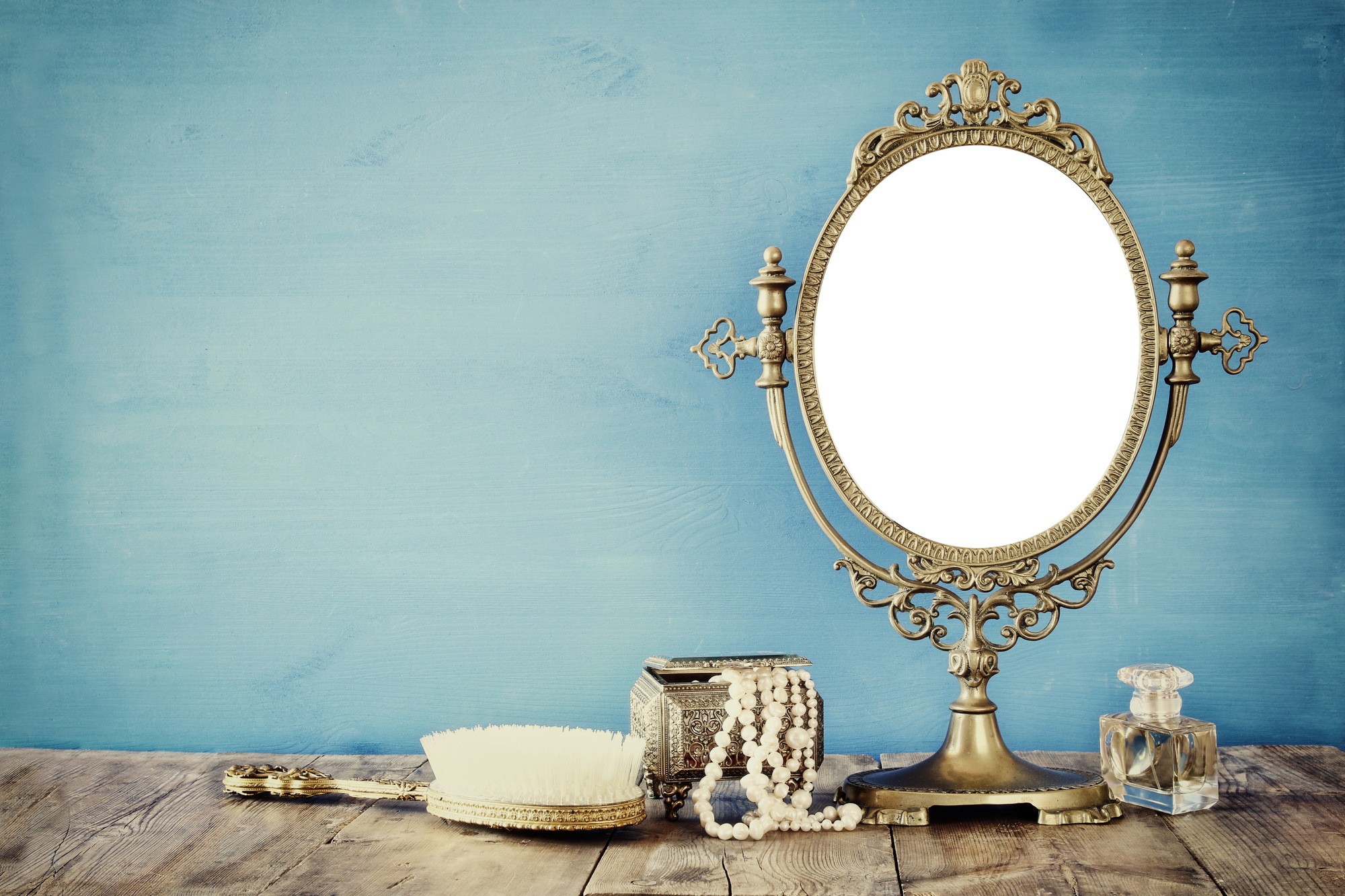 Metal finishes and artisan textures are two hot trends for 2018. And of course, farmhouse decor is very vogue at the moment.
Why do you think that is? Rustic interior design is connected to both the past and nature. It celebrates the art of upcycling and repurposing.
A perfect DIY that incorporates all these elements is to make an antique mirror. A 19th-century large mirror sells for over $3000 on eBay. You can make one that would pass an art historian's inspection with minimal supplies and times and for about 1% of the cost.
This do-it-yourself project is simple and extremely versatile. Picture a gold, gilded statement mirror over the master bed. Or how about a set of three small mirrors across from a free-standing bathtub?
Use a mirror you have at home or find a bargain mirror at a charity or thrift shop.
A Victorian mirror over a vanity would lend the space a regal elegance. You could even purchase a selection of hand glass mirrors and hang them on the staircase for a stunning focal point.
There are so many options. Read on and we will show you three ways to make an antique mirror that will add character and beauty to your space and enhance your decor.
First, Gear Up
Safety first! Wear protective glasses, a ventilation mask and chemical-resistant gloves. We suggest working on this outside or at least an extremely well-ventilated area.
Chemicals can enter and hurt your nose, air passages and lungs. These chemicals can become deposited in the airways or be absorbed by the lungs into the bloodstream. The blood can then carry these substances to the rest of the body.
Always read the safety instructions on the products for the safety warnings.
Protect Work Surface
You can do your work on any flat area. Either a table or the floor.
Lay a thick layer of newspaper on top of your work surface to protect it against any spills. You could also use thick plastic or cardboard.
Remove Mirror
If your mirror comes in a frame, remove the mirror carefully. Put the frame somewhere safe where it will not come into contact with any of the materials you will be using on the mirror.
Make an Antique Mirror with Muriatic Acid
If you didn't know, muriatic acid is the same chemical that breaks down food in your stomach. It is also good for various home and industrial uses.
To make a new mirror look old, you can use muriatic acid and paint stripper. Most hardware and craft stores sell muriatic acid. You can expect to get a big 1L can for around $6.
Make sure you do this outside, the fumes can be very strong.
First, apply aerosol paint stripper to the back of the mirror. This will loosen the paint that keeps on the silver coat.
Next, use a putty knife to remove the paint. Go slowly so you don't hurt the mirror.
Then wipe the mirror with a damp cloth. Go over the entire surface with a dry cloth to make sure the mirror is fully dry.
Use Muriatic Acid
Slowly pour the muriatic acid into a squirt bottle via a plastic funnel. Remember to wear your protective gear during this step.
You'll have noticed that rustic-looking mirrors have the most wear around the edges. To copy that look spray a squirt of acid onto 2-3 areas on the back of the mirror.
The muriatic acid will remove the reflective backing on those spots. Watch as the acid does its job over the next 30-60 seconds. You will start to see spots where the mirror is completely see-through.
Now dab the entire mirror with a paper towel to remove the excess muriatic acid.
Next, apply one coat of antique spray paint (in gold or silver) on the back of the mirror. This coat will show through on the front of the mirror and protect the remaining sections of the reflective coating.
The final step is to put the mirror back in the frame.
You may want to consider re-working your mirror frame to suit the rustic look of your mirror. One way to do this is to use a paint scraper or coarse sandpaper and gently remove some of the paint.
This will give your frame a weathered appearance. Alternatively, you might choose to purchase a statement high-gloss spray paint in a metallic shade like silver or gold. This will give your accent wall art a bold glam look.
Ta-da! You have a gorgeous antique new glass to hang on your wall. Hang it in your dining room and lay your table with a gorgeous rustic table runner to give your space a coordinated look.
Make an Antique Mirror with Bleach
If you want to use items you already have in your house, you can use bleach to make a mirror look old.
First, remove the protective layer with paint stripper. Or you can just scrape a few areas. How much of the protective layer you remove will alter the final look.
If you want to be able to use the mirror, scrape only around the edges and the top and bottom and leave the middle intact.
On the other hand, a fully distressed mirror is reminiscent of old-fashioned treasures recovered from shipwrecks and so on. A Titanic-inspired hand mirror anyone?
Once you have scraped the backing to your satisfaction, pour some bleach into a spray bottle and spritz it on the back of the mirror. The bleach needs time to work through the silver so spray and leave it for a couple of days.
Make sure to use the bleach at full concentration. Do not dilute with water.
This method will give you a nice distressed, rustic-looking mirror with minimal supplies.

If you want more distressing, simply apply more bleach and let it rest a few more days. Once you are satisfied assemble the mirror back in the frame and hang.
Create an Antique Mirror with Mirror Stripper
You can create a beautiful old-world mirror with specialty products designed for this purpose. For example, the Amy Howard antique mirror solution. You can also purchase the stripper solution as well.
Basically, you will follow the instructions on the package. First, roll the stripper solution (which is like a glue) on the back of the mirror.
The protective coating dissolves in a matter of minutes. Wash the mirror thoroughly. We recommend using the hose for this.
Next, apply the antiquing solution. Once that has dried completely, paint the back of the mirror with paint (black, silver or gold all work well).
That's all there is to it. You'll successfully make a mirror look old in less than an hour with specialty products.
Make an Antique Mirror With No Chemicals
If you have an allergy to certain chemicals or you just prefer to use green products, have no fear. You can still make a glass look like an old mirror with just vinegar and Krylon's Looking Glass spray paint.
Again, this tutorial is for making a clear glass look like an antique mirror. You can do this on a cabinet, a coffee table, a window, picture frame or anything with clear glass.
Fill a spray bottle up three-quarters full of water. Add a quarter part of vinegar and mix.
Clean your mirror well. Spray the water-vinegar mixture on the glass. You can concentrate on a few areas or cover the whole thing. It depends what look you want.
While the vinegar is still wet, spray the spray paint on key areas of the glass. Hold the spray paint about six inches away from the glass while you squirt. Wait about fifteen seconds and then wipe the surface dry with paper towel.
Your glass will now look patchy and rustic-looking. If you are happy with the result, stop there. Or you can repeat the process a few more times for a fuller effect.
There you go! This method is great if you want an antique mirrored surface on something that has glass. Imagine how pretty this would look on the top of a hand-me-down glass coffee table!
You may love how this looks so much that you will hunt the thrift shops for furniture and picture frames with glass that you can use this technique on again.
Final Thoughts
We have shown you four ways to make an antique mirror for a gorgeous rustic decor item that is sure to please.