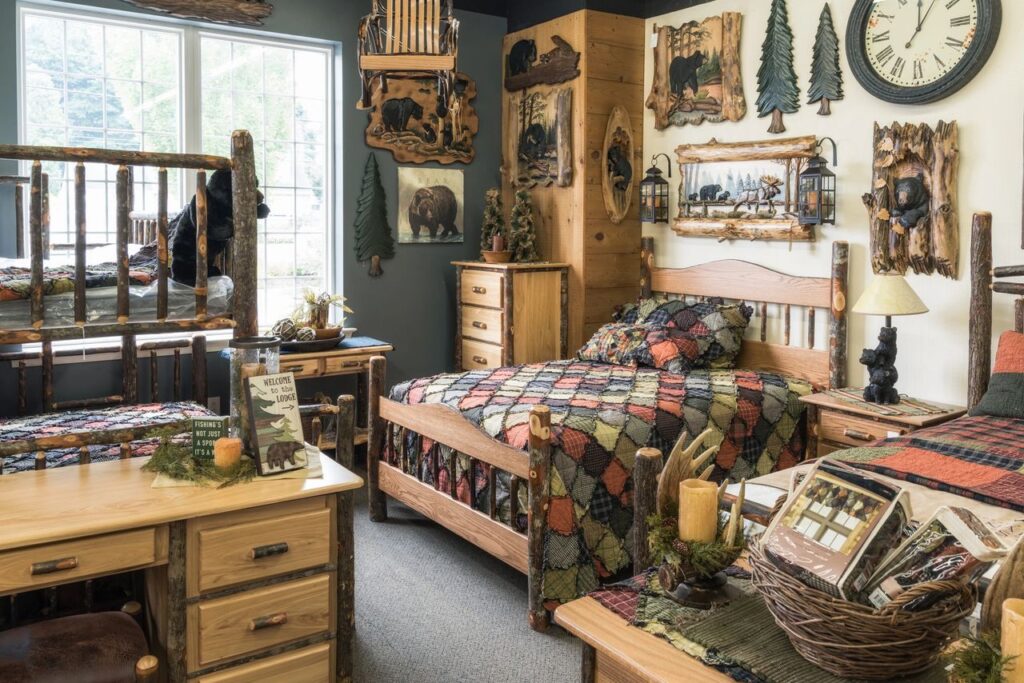 You don't need to be located on a farm or near a barn with animals and chickens roaming free to get a farmhouse bedroom look.
With farmhouse bedding, you can turn your bedroom into a beautiful, relaxed, and comfortable rustic haven.
Excited about this idea?
Here are straightforward tips you can use to give your bedroom a charming rustic finish.
1. Think about the layers
First, the essential layers you need to complete a rustic look include sheets, duvet, duvet cover, bed skirts, and quilt or blanket that you will put at the bottom of your bed.
When selecting your layers, always opt for natural textiles that offer a country feel. Cotton options are the best.
Another important aspect is the texture of your layers, and you might want to play with different textures to create a seamless contrast.
The colors of your layers with largely depend on the overall theme of your bedroom. Let say; you have brown wooden or bricked walls with a wooden bed, white cotton sheets will be a great option to layer the bed.
Cream and apricot are also other great hues if you want a laid-back space.
The color palette of your room should feature neutral tones, earthy brown matched with beige, or a subtle touch of red with black.
The look of quilts simply spells country. Choose a color that is somewhat contrasting to your sheets.
For your duvet, light colors such as grays, tans, whites, and creams are easy to adapt to your existing theme. If you love solid duvets, linens, whites and natural fiber options are ideal for pairing with soft ticking stripe sheets.
2. Consider the right patterns
Farmhouse bedding sets come in various patterns to offer you limitless styling options.
The pattern you choose also depends on your room's theme. Think about light, printed, floral, plaids, and stripes. These are the familiar yet unique styles for a personalized farmhouse look.
Some people will opt for ticking stripes or options with a grain sack pattern as they offer a truly classic feel.
Try pairing patterns that can go well together such as stripe and floral options.
If selecting a pattern is hard, just keep it simple: white pillows, white comforter, and white sheets. This is an easy yet smart way to complete a rustic bedroom.
3. Farmhouse bedding – Get pillows
For a comfortable farmhouse bedroom, your rustic bed is not complete without pillows.
With pillows, you can have:
Four large pillows
Two large and two small pillows
Or, simply two large pillows
Some great throw pillows to add to your bed include stripes, lace, and solid options of neutral hues.
Try as much as possible to pair the pillows to the rest of the bedding to create a simple yet appealing color palette.
Have a good night sleep
Creating a serene, rustic look for your bedroom with farmhouse bedding depends on how you are going to pair the hues and patterns.
The design of your room and its content matters. Your curtains, lamps, rugs, wall arts and wardrobes should conform to your desired look.
Try adding distressed options to your room, and you will certainly love the vibe.
Rustic rooms always look great with natural light, so make sure those windows are wide enough.
Make your bedroom uniquely yours!